GC 32 SERIES 2e ETAPE A MALCESINE (ITA)COLLISION A+30 NŒUDS ET TEAM TILT VAINQUEUR

Vendredi aucune course n'a pu avoir lieu sur le lac de Garde, ne collison a plus de 30 nœuds s'étant produite le dernier jour de la Coupe Malcesine de GC32. entre Malizia - Yacht Club de Monaco de Pierre Casiraghi a heurté à 30 noeuds un semi-rigide de l'organisation.

Un choc impressionnant qui heureusement n'a fait aucun blessé. Mais les dégâts sont importants sur le bateau, le mât est cassé, le foil aussi, la grand-voile est définitivement perdue.

Le skipper Pierre Casiraghi, qui était accompagné de Sébastien Col à la tactique, Boris Herrmann, Richard Mason et Adam Piggott, déclarait après cette collision soulagé qu'il n'y ai aucun blessé: "C'est vraiment dommage mais c'est surtout très rageant… Un tel accident n'aurait jamais dû pouvoir se produire. Les GC32 sont des bateaux ultra rapides et il est essentiel de veiller au respect des périmètres de sécurité tant pour les bateaux accrédités que pour les spectateurs", "Il s'agit d'une nouvelle génération de bateaux et nous devons tenir compte de leur très grande vitesse dans le dispositif de sécurité. Il faut une véritable prise de conscience générale, tant des organisateurs, coureurs et plaisanciers. C'est important pour le bon déroulement des régates et l'avenir de notre sport"

le Fraglia Vela Malcesine et l'Association internationale de classe CG32 n'étant pas parvenus à un accord sur la responsabilité.

Depuis quatre an que le GC32 Racing Tour existe la sécurité a toujours été d'une importance primordiale. Pour cette étape du GC32 Racing Tour les services d'une société de sécurité ont été utilisés, employant Henrik Norberg - un ancien de la Coupe de l'America et marin sur multicoque, qui travail régulierement depuis 25 ans comme pompier et ambulancier dans sa Suède natale.

Pour cette étape du GC32 Coupe Malcesine des zones d'exclusion de sécurité avaient été prises autour de la zone de course.

Christian Scherrer, GC32 Racing Tour Manager, a déclaré: "Heureusement il n'y a pas eu de blessé lors de l'incident de vendredi. Nous augmentons sans cesse les mesures pour améliorer la sécurité et nous avons fait des progrès considérables et nous continueront de le faire cette saison. "

Un groupe de sécurité qui sera au sein de l'association de classe GC32 a été mis en place pour améliorer les procédures de sécurité. Ce groupe comprendra Norberg et certains des marins les plus expérimentés du GGC32.

Le président de la Fraglia Vela Malcesine, Gianni Testa, a commenté: "Comme organisateur de l'événement, la FVM partage pleinement et accepte la décision de la classe: la sécurité d'abord! 'Foiling' est un nouveau jeu et nécessite des procédures de sécurité nouvelles«

Tilt Team qui était en tête a donc été déclaré vainqueur.


L'équipe de Suisse TILT termine avec juste un point d'avance sur le NORAUTO de Franck Cammas qui avait rempotté la première étape en terminant premier en Mai.

Les deux équipes sont maintenant à égalité de points en tête du classement général, le Team Tilt est en tête du CG32 Racing Tour 2016 en raison de sa victoire lors de cette dernière régate.

Arnaud Psarofaghis le barreur de TEAM TILT a dit:..

"C'est grand de gagner ici à Malcesine, c'est une bonne finale pour les garçons, nous nous sommes amélioré à chaque course, donc c'est bon d'avoir gagné ici ,on était assez triste de n'avoir pas pu terminer toutes les courses. Nous aurions préféré lutter sur l'eau, mais c'est la vie, nous avons fait le travail au bon moment. "

ARGO skippé par Jason Carroll a remporté le trophée des propriétaire-barreur et consolide sa position tête du trophée 2016.

Le CG32 Racing Tour se déplace maintenant à la 35e Copa del Rey à MAPFRE, qui se tiendra sur 3-6 Août à Palma de Mallorca.

Psarofaghis dit:. "Je pense que tout le monde va encore s'améliorer, je pense qu'il y aura encore plus de gens dans la lutte pour le podium et ce sera de plus en plus difficile, nous ne pouvons pas nous reposer sur nos lauriers, il va falloir travailler. Prendre la victoire aujourd'hui , mais travailler plus fort pour la prochaine course. "

Malcesine cup résultats (subject to jury hearings tomorrow)

Pos Team R1 R2 R3 R4 R5 R6 R7 R8 R9 Tot
1 Team Tilt 1 3 5 1 2 1 1 2 2 18
2 NORAUTO 3 1 1 3 1 2 2 5 1 19
3 Gunvor Sailing 2 2 4 5 7** 3 4 1 4 32
4 Argo 6 4 2 2 4 5 7 4 6 40
5 Malizia - Yacht Club de Monaco 4 5 7 4 3 9 6 3 5 46
6 ARMIN STROM Sailing Team 5 7 6 10 10* 8 3 8 3 60
7 Mamma Aiuto! 10 8 3 7 7 7 8 6 8 64
8 Team ENGIE 9 9 9 6 5 4 5 7 13*** 67
9 Realteam 8 6 10 9 9 6 10 9 9**** 76
10 Orange Racing 7 10 8 8 10 10 9 10 7 79
* including a two point penalty
** including a one point penalty
*** plus a two point penalty
**** plus a one point penalty

TROPHEE DES PROPRIETAIRES BARREUR

1 Argo 6 4 2 2 4 5 7 4 6 40
2 Malizia - Yacht Club de Monaco***** 4 5 7 4 3 9 6 3 5 46
3 Orange Racing 7 10 8 8 10 10 9 10 7 79


CLASSEMENT GENERAL GC 32 SERIES

Pos Team Riva Malcesine Tot
1 TEAM TILT 2 1 3
2 NORAUTO 1 2 3
3 GUNVOR SAILING 4 3 7
4 ARMIN STROM SAILING TEAM 3 6 9
5 ARGO 7 4 11
6 MALIZIA 8 5 13
7 TEAM ENGIE 5 8 13
8 SPINDRIFT RACING 6 11 17
9 MAMMA AIUTO ! 10 7 17
10 REALTEAM 10 9 19
11 ORANGE RACING 9 10 19




Le bateau GC 32

Dimensions:
Length (overall): 12.00m
Length (hull): 10.00m
Beam: 6.00m
Weight: 950 kg (Including sails)
Draft (upwind): 2.10m
Draft (downwind): 1.60m
Mast height (above deck): 16.50m
Bowsprit length: 6.60m
Mainsail: 60.00m²
Jib: 23.50m²
Gennaker: 90.00m²
After two very successful opening days of competition on Lake Garda, no racing was held on the final day of the GC32 Malcesine Cup. Following the collision of Malizia - Yacht Club de Monaco and a press RIB on Friday, the Fraglia Vela Malcesine and the GC32 International Class Association did not reach an agreement over the liability for the final day of racing.
In the four years that the GC32 Racing Tour has existed, safety has always been of paramount importance. Steps the GC32 Racing Tour has taken this year include employing its own Safety Officer in Henrik Norberg - a former America's Cup and multihull sailor, whose regular job for the last 25 years has also as a fireman and paramedic in his native Sweden. At the GC32 Malcesine Cup additional steps have been taken to increase the exclusion zone around the race area.
Christian Scherrer, GC32 Racing Tour Manager, said: "Fortunately there was no injury during Friday's incident. We are continually taking steps to improve safety and have made considerable progress and will continue to do so this season."
A safety group within the GC32 Class Association has been set up to improve safety procedures for future GC32 regattas. This group will include Norberg and some of the GC32's most experienced and prominent sailors.
President of the Fraglia Vela Malcesine, Gianni Testa, commented: "As event organiser, the FVM fully shares and agrees in the decision of the class: Safety First! Foiling is a new game and it requires new safety procedures to guarantee the safety on the race course for everyone involved."

Team Tilt gets the ceremonial dowsing. Photo ©: Max Ranchi / www.maxranchi.com
Team Tilt victorious
The GC32 Malcesine Cup had a close conclusion with Switzerland's Team Tilt finishing just one point ahead of the Franck Cammas-steered NORAUTO. These results are the opposite of those scored at May's GC32 Riva Cup. With the two teams now tied on points at the top of the overall leaderboard, Team Tilt is nominally overall leader of the 2016 GC32 Racing Tour due to her winning the latest regatta.
Helmsman Arnaud Psarofaghis said: "It is a great to win here in Malcesine and it is a good end for the boys at the end of the week we have done. We improved every race so it is good to have won here. It was pretty sad we didn't complete any scoring races over the last two days. We wanted to fight more on the water so that is a shame, but it is life and we did the work at the right time."
Jason Carroll's Argo won the owner-driver trophy at the GC32 Malcesine Cup to consolidate her position at the top of 2016 owner-driver results table.
The GC32 Racing Tour now moves on to the 35th Copa del Rey MAPFRE, to be held over 3-6 August in Palma de Mallorca.
Looking ahead Psarofaghis said: "I think everyone will improve. I think will have some more people in the fight for the podium and we will have to push harder and harder and not rest on our laurels. Take the win now but work harder for the next race."

Get the very latest news from the GC32 Racing Tour's new social media pages:
Overall results (subject to jury hearings tomorrow)
Pos Team R1 R2 R3 R4 R5 R6 R7 R8 R9 Tot
1 Team Tilt 1 3 5 1 2 1 1 2 2 18
2 NORAUTO 3 1 1 3 1 2 2 5 1 19
3 Gunvor Sailing 2 2 4 5 7** 3 4 1 4 32
4 Argo 6 4 2 2 4 5 7 4 6 40
5 Malizia - Yacht Club de Monaco 4 5 7 4 3 9 6 3 5 46
6 ARMIN STROM Sailing Team 5 7 6 10 10* 8 3 8 3 60
7 Mamma Aiuto! 10 8 3 7 7 7 8 6 8 64
8 Team ENGIE 9 9 9 6 5 4 5 7 13*** 67
9 Realteam 8 6 10 9 9 6 10 9 9**** 76
10 Orange Racing 7 10 8 8 10 10 9 10 7 79
* including a two point penalty
** including a one point penalty
*** plus a two point penalty
**** plus a one point penalty
Owner-driver ranking
1 Argo 6 4 2 2 4 5 7 4 6 40
2 Malizia - Yacht Club de Monaco***** 4 5 7 4 3 9 6 3 5 46
3 Orange Racing 7 10 8 8 10 10 9 10 7 79
Overall results after two events
Pos Team Riva Malcesine Tot
1 TEAM TILT 2 1 3
2 NORAUTO 1 2 3
3 GUNVOR SAILING 4 3 7
4 ARMIN STROM SAILING TEAM 3 6 9
5 ARGO 7 4 11
6 MALIZIA 8 5 13
7 TEAM ENGIE 5 8 13
8 SPINDRIFT RACING 6 11 17
9 MAMMA AIUTO ! 10 7 17
10 REALTEAM 10 9 19
11 ORANGE RACING 9 10 19
THE BOAT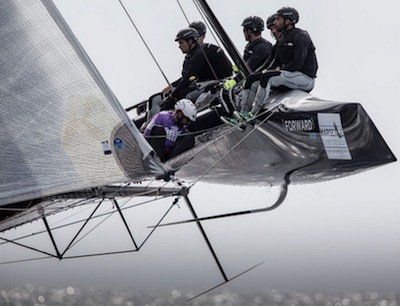 Specifications
LOA 12.00m/39ft 4in
Hull length 10.00m/32ft 10in
Beam 6.00m/19ft 8in
Displacement 850kg/1,874lb
Draught 1.60/2.10m/5ft 3in/6ft 11in
Mast height 16.50m/54ft 2in
Mainsail 60m2/646ft2
Jib 23.50m2 /253ft2
Gennaker 90m2/970ft2
Designed by Martin Fisher
Price ex VAT €239,000 (£190,715) ex sails
Hull built by: Premier Composite Technologies, Dubai
Rig, spine and beams by: Southern Spars, South Africa
Foils and rudders by: Heol Composites, France